Category :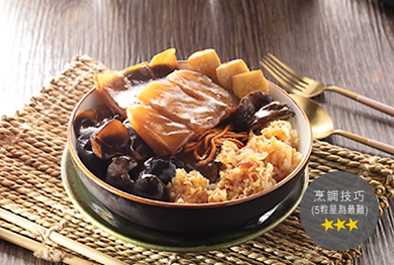 Step:
Defrosted crocodile tail, blanch them in water with 2 pieces of ginger and 1 bunch of scallion for 5 minutes for later use.

Soak the black fungus for an hour, cut the bottom lump and cut them into large pieces. Rinse thoroughly for later use.

Soak the snow fungus for 4 hours until they turn soft and viscous. Refresh the water 2 times in between and tear them into smaller pieces.

Rinse and soak the cultivated cordycep until soft. Cut eryngii mushrooms and rinse thoroughly for later use.

Heat the wok, add oil, stir fry ginger slices, saute crocodile tail, black fungus, snow fungus, featured cultivated cordycep and eryngii mushrooms.

Add 1L water and cook for 15 minutes with oyster sauce, sugar and chicken powder. Stew it for 15 minutes more until soft. Ready to serve.
Reunion Feast

Author :

HKJEBN

Ingredients

(4 servings)

Frozen Thai Crocodile Tail 300g (About half pack)

Black Fungus 10g

Snow Fungus 10g

Featured Cultivated Cordycep 10g

Eryngii Mushrooms 50g

Ginger 4 Slices

Scallion 1 Bunch

Water 1L

Oyster Sauce 70g (About 4 tablespoons)

Sugar 20g (About 4 teaspoons)

Chicken Powder 20g (About 4 teaspoons)