Category :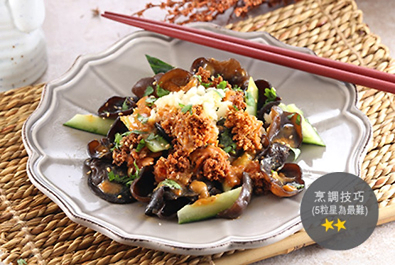 Step:
Soak the sea cucumber intestines in water overnight, boil for about 20-30 minutes. Turn off the heat, keep the lid on until the water cools down.

Drain and put the sea cucumber intestines in running water for half an hour (if they are not completely soft, repeat the above steps). Wash clean and remove any grains of sand. Set aside.

Soak the dried small black fungus in water until soft, remove any grains of sand; crush the cucumber with a chopper, remove the seeds and cut into sections. Chop the coriander; mince the garlic. Set aside;

Mix the seasoning (sugar, sesame oil, Japanese soy sauce, peanut butter, Sichuan peppercorn oil) with the XO sauce, and mix it well with the sea cucumber intestines, cucumber, small black fungus, chopped coriander and minced garlic.

Refrigerate (0-8°C) for about 2 hours, and sprinkle the sesame seeds on top. Ready to serve.

To give the dressing a more tantalizing taste, you may wish to deep fry some minced shallots and minced garlic, then add some finely chopped red cluster pepper, chili bean paste and XO sauce and stir-fry in low heat until the ingredients mix well.

Leave it to cool and mix with the seasoning. Ready to serve.
All For Fresh

Author :

HKJEBN

Ingredients

(2 servings)

XO sauce (medium hot) 4 tablespoons

Dried sea cucumber intestines 4 pcs

Dried small black fungus 60g

Cucumber 200g

Coriander 120g

Garlic 60g

Sesame seeds Adequate amount

Seasoning:

Sugar 2 tablespoons

Sesame oil 3 tablespoons

Japanese soy sauce 1 tablespoon

Peanut butter 3 tablespoons

Sichuan peppercorn oil 3 tablespoons